One of the most promising technologies to be developed for the residential air conditioning and heating market is Zoning. Zoning allows a single air conditioning system to be divided into several areas, each controlled by its own thermostat.
The principle is simple. The individual rooms in a home gain and lose heat at different rates depending on the time of day, season of the year, the number of windows and doors, the floor on which the room is located, etc. In addition, unbalanced duct systems contribute to irregular cooling and heating.
Zoned systems vary the amount of heating and cooling in a room or a group of rooms (zones) based on the desired temperature in each area. This is accomplished by the use of a central control board, thermostats in each zone, and motorized dampers placed in the duct system to adjust the flow of air to each zone.
The advantages of zoning are many including:
Increase in system efficiency by 2+ SEER

Decreased humidity in the home

Improved air distribution

Decrease in the total air conditioning required in the home

Elimination of hot or cold spots

Control of two story homes (more cooling upstairs in summer)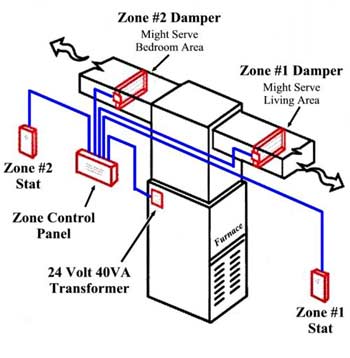 Why haven't you heard of zoning before now? Zoning isn't expensive considering the benefits but it requires an additional level of training and sophistication on the part of air conditioning contractors. It is provided by all major air conditioning manufacturers and some independents.
Surgi's Heating and Air Conditioning has installed several hundred zoned systems and is experienced in the zoning systems of Trane, Carrier, Lennox and EWC. If you would like to have a discussion of the benefits of zoning in your home, please call Surgi's at 504-469-4232. Estimates are free...we're here to help.
© 2011 Surgi's Heating and Air Conditioning, Inc.